Tags: akad nikah
December 16th, 2011
Link: Arshad & Nurul's Wedding Gallery
Link: Storyboard Album
Remember my previous post about my assignment in Dewan Perdana Felda? This was the second time all in a week..haha..coincidence eh..Arshad and Nurul had engaged me for their 3 big days. One in Dewan Felda, another in Tropicana Golf & Country Club and their Akad Nikad ceremony as well. However, my second photographer was assigned to capture their moments during the Akad Nikah ceremony as I was engaged for Chang Haur & Cecilia's wedding. Therefore, photos of the Akad Nikad are not posted on my gallery. During both the reception, Nurul's father said "Darren, make sure I look good.. ok?" Yes, on both reception..hehe..So, when I was going through their photos, this reminder kept playing in my head and every photo of his, this line keep recurring in my mind. Kinda haunting ler, Uncle...haha

October 4th, 2011
Link: Wafiy & Iera's Akad Nikah Gallery
During our first meeting to discuss about the wedding, Wafiy gave me an impression that he's one very loving husband and his favourite line is "Anything will do, as long Iera likes it". Lucky she

Their wedding was held in Kuantan and followed by another assignment that I have in KL on the same day. Though the distance, it wasn't really a rat race day. I drove down to Kuantan in the morning itself since the ceremony will only start at 9am. Upon arrival, I was received by the aroma of the cooking curry and rendang and of course the friendly welcome of Iera's family. Conviniently, the mosque is just a walking distance from Iera's house. Everything was on track and we even had time to mingle and linger around to smell the rosses. Not forgetting the delicious kenduri too

April 24th, 2011
Link: Hafiz & Rasyidah's Wedding Gallery
Hafiz is no stranger to me even before his wedding. He's actually Hanis and Norzira's brother. If you've followed my blog from Hanis wedding, you'll know how humorous these siblings are. Although he's the "Raja Sehari" on that blessed day, he's a natural joker for setiap hari. He even took my camera bag and posed as a soldier on battle field. Coming next will be Norzira's wedding and I'm already looking forward to another giggling session with them.
_____________________________________________________________
December 1st, 2010
Link: Azurin & Norzira's Engagement Gallery
Last Chinese New Year Eve, I photographed the wedding of Zira's elder sister Yusof & Hanis and it's just like yesterday as everything is still fresh and vivid in my memory. Their family is exceptionally warm, nice and humorous to the bits..ahaha..We giggled non stop during our free shots session around the kampung area. And now a year later, I photographed Zira's engagement. Zira herself is a photography enthusiast, so it is much easier when we are taking portrait shots with her au naturel posing. Perhaps it's the au naturel of everyone and surrounding there made me felt good to be back for this assignment.
November 1st, 2009
When I first spoke to Hisham through the phone, he sounded like a stern person. However, he's totally different in person. Not only is he humorous, he's also generous..ahah..(didn't say it because they rhyme) Thanks Hisham for 2 packs of chocolate coated dates, a local delicacy which he bought purposely from Saudi Arabia. During our meet up, getting to know Saudi Arabia was our main conversation..about their transportation, cheap petrol and some local wedding traditions to name a few.
_____________________________________________________________
February 7th, 2009
Everything is pink, sweet and nice on the first day followed by a romantic white theme on the second day. The splendid smiles and humorous moments from this couple made their photos so pleasant and memorable. The hospitality extended were so warm that I couldn't refuse the meal offered although I'm actually rushing off home for my chinese new year eve reunion dinner. What a lovely couple.

_____________________________________________________________
January 10th, 2009
It's always fun to attend Malay wedding as you can see lots of friends, neighbours and relatives helping out during the event. The food and door gifts were arranged by his mother herself. Syafie is one chinese dialect expert. He can converse fluently in Cantonese, Mandarin and even Hakka. Dont play play ah...

November 19th, 2008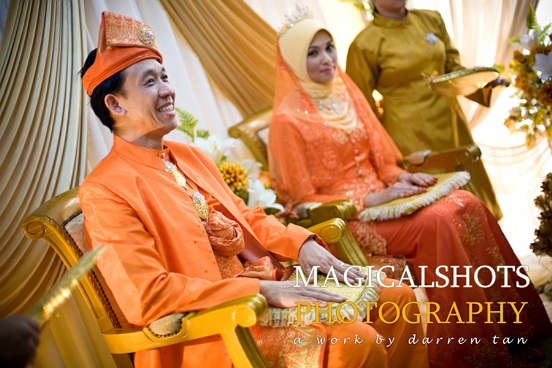 When Aishah & Rocky signed up for a wedding photography package with me, I actually looked forward to their wedding. There were mixtures of Chinese and Malay customary which brought up some varieties to the wedding. Capturing the moments whereby two different culture accepting each other reminds me of how rich and harmony Malaysia is.
August 29th, 2008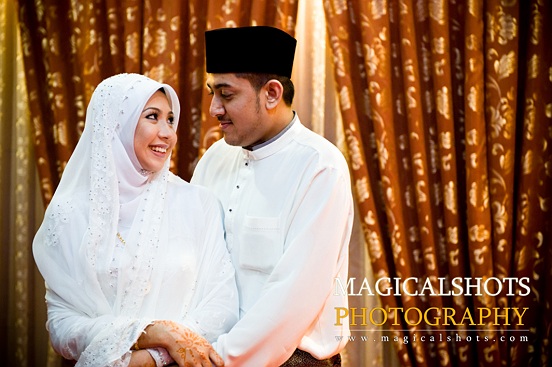 As mentioned in "Zizi & Izzi", a friend of Ari, became "Raja Sehari" last weekend. He's as friendly as his looks and cracks jokes all the time meanwhile his wife smiled sweetly at everyone. With him around, everyone was full of laughter and was never a boring event for me as well. On that night, we were all entertained by his special guest, our very own Malaysian songbird, Jaclyn Victor. No doubt, she can really hit the high note effortlessly. Amazed, amazed..
Photo Gallery of Putra & Shuhada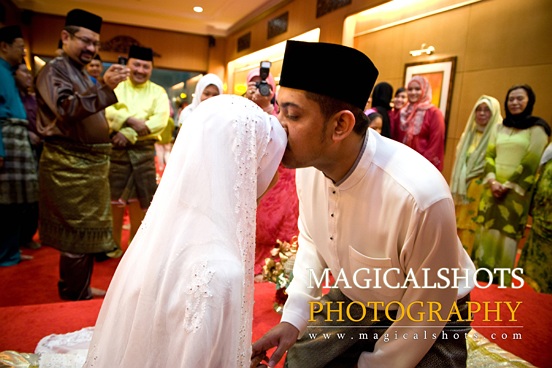 August 1st, 2008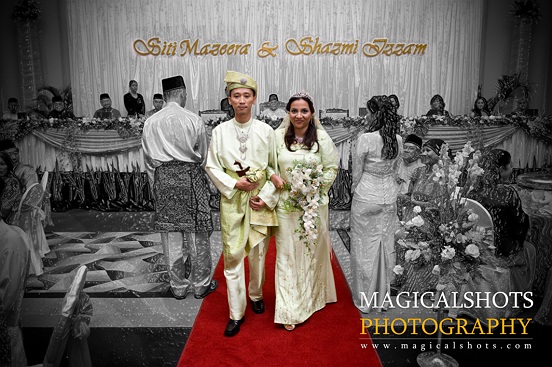 That is how they address themselves, Zizi & Izzi (Mazeera & Izzam). A fun and friendly couple and so is Zizi's sister. Their wedding ceremony were held at Masjid Shah Alam and reception at Concorde Hotel Shah Alam which were witness by DYMM YANG DIPERTUAN BESAR NEGERI SEMBILAN TUANKU JA'AFFAR IBNI ALMARHUM TUANKU ABDUL RAHMAN.
If possible, I would rather be the witness of the wedding than being the photographer of my relatives. Same goes to Ari, cousin of Zizi. Actually, they got my contact through Ari. Hence, would like to take this opportunity to thanks Ari for introducing this happy couple to me. It was great working with them. Coming week, I'll be covering Putra's wedding, Ari's car lovers friend.

_____________________________________________________________