Zizi & Izzi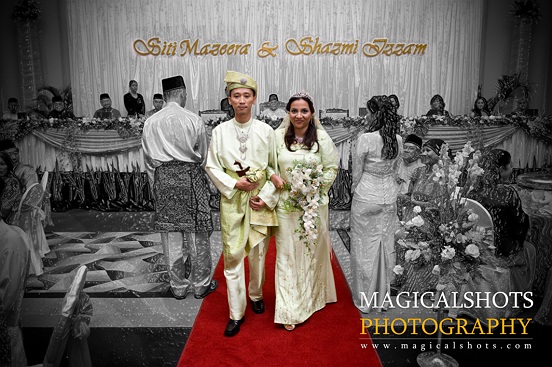 That is how they address themselves, Zizi & Izzi (Mazeera & Izzam). A fun and friendly couple and so is Zizi's sister. Their wedding ceremony were held at Masjid Shah Alam and reception at Concorde Hotel Shah Alam which were witness by DYMM YANG DIPERTUAN BESAR NEGERI SEMBILAN TUANKU JA'AFFAR IBNI ALMARHUM TUANKU ABDUL RAHMAN.
If possible, I would rather be the witness of the wedding than being the photographer of my relatives. Same goes to Ari, cousin of Zizi. Actually, they got my contact through Ari. Hence, would like to take this opportunity to thanks Ari for introducing this happy couple to me. It was great working with them. Coming week, I'll be covering Putra's wedding, Ari's car lovers friend.

4 comments
Hi Darren!

Love the photos!!!! Thanks for taking the pictures. You did a great job with them! They're gorgeous! Also tahnks for putting up with all of our 'kecohness'... Ha ha ha ha!!! I can't wait for the album and video to be done!

Thanks again!
08/01/08 @ 09:00
Darren! Why not many pictures of meeeee!!! hahaha...kidding! Nice pictures! and i would like to apologise on Lina's behalf cos she was soo demanding!

08/01/08 @ 14:12
Comment
from:
Darren Tan

Zizi: You're most welcome and I'm glad you like it. Actually the 'kecohness' kept me from falling asleep!!..

Dada: Ahem.. there will be lots of your picture when comes to your wedding day OK..ehehhe.. Thanks you for your compliment too..
08/01/08 @ 20:08
Darren, i would like to complain.. why no pictures of me?! only my kids and my mum and my dad also got. Haiyaa... hehehe.. Excellent shots dude. I wouldnt recommend someone mediocre to cover my cuz's wedding. Take care bro...
08/03/08 @ 01:03

Comment feed for this post